Lakásátalakítás_József utca
A 110 nm-es lakás garzonlakásokra történő felosztását a változó ingatlanpiaci kereslet inspirálta. 
Az L-alaprajzú lakás súlypontjába eső bejárat lehetővé teszi egy előtér kialakítását úgy, hogy mindhárom lakás megközelíthető legyen. A lakások alaprajzai –az adottságokból következően- különbözőek, de az átalakítás részeként mindegyikben galéria növeli a használható területet, melyek nemcsak a lakás használhatóságát segítik, hanem kijelölik további helyiségek tereit is. A lakások önálló karakterét erősítve, ezekhez az új terekhez különböző, élénk színek kapcsolódnak.
Egy olyan mikroközösség létrehozása volt a cél, melynek tagjai egy jól működő kis lakóközösség résztvevői.
​​​​​​​
The changing demands of the property market inspired the division of the 110 sqm apartment into condominiums. The entrance being in the centre of gravity of the "L"-shaped floorplan, it made it possible to create a common lobby to reach all three apartments.
The floor plans are different - due to the initial conditions -, but as part of the conversion each flat received a gallery to increase the useful area and not only to improve the usability of the apartment but also to form space for additional rooms. To enhance the individual character of each flat, these new spaces are painted in saturated colours.
Our goal was to create such a microcommunity that consists of members who are part of a well functioning little living community.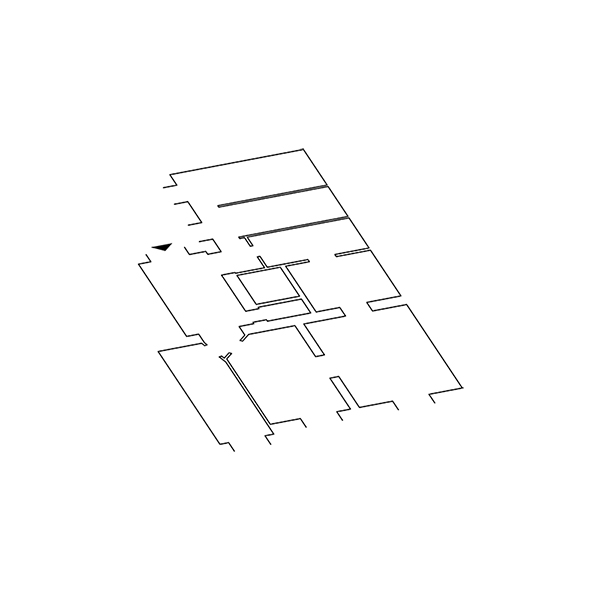 építészet/architecture: Batizi-Pócsi Gergő, Batizi-Pócsi Péter /batlab architects/_kerámia/ceramic: Kas műhely_ipari lámpák/industrial lamps: industrial lamp budapest_helyszín/location: Budapest_projekt év/design and construction: 2016_volumen/area: 110 nm_képek/photo: Juhász Norbert /juhasz norbert photography/